The Detroit Section has an active calendar that includes various educational courses as well as multiple opportunities to network and socialize with industry peers. To keep abreast with our upcoming events follow the calendar below.
To Save on fees and learn more of the benefits of an IES membership click here!
Feb
7
Tue
IES Detroit Lighting Industry Mixer

@ UTLC Gallery - Lawrence Tech University
Feb 7 @ 4:00 pm – 7:00 pm
Join Design and Construction Students and Professionals for a Lighting Industry Panel and Networking Event at Lawrence Tech University!
Students and Professionals in Design and Construction are invited to join IES Detroit for a Lighting Industry Panel and Networking Event in the UTLC Gallery of Lawrence Tech University. Attendees will learn about the disciplines that make up the lighting industry, and strengthen their understanding of how these roles work together to be successful.
The event will kick off with a Panel consisting of professionals from various sectors of the lighting industry, and the Networking Event will give attendees an opportunity to learn about each other, and celebrate the diverse roles and skillsets that are needed to make projects happen. Participants in the Networking Event are eligible to win prizes!
The Panelists:
Salvatore (Sam) Moschelli – Integrated Design Solutions – Architect
Delia Rodi – Niagara Murano – Lighting Designer
Brandon Reynolds – Peter Basso Associates – Electrical Engineer
Brian Mendez – Michigan Lighting Systems East – Lighting Agent
Kyle Verseman – Landscape Forms – Manufacturer
Kelly O'Connor – SourceBlue LLC – Construction
Moderator: Darren Lapsley – Clarus Lighting and Controls
Meeting Schedule:
4:00-4:30 Gather with Hors D'oeuvres
4:30-5:30 Panel
5:30-6:30 Networking Event with Strolling Dinner
6:30-7:00 Prize Announcement
Meeting fees:
$10 for Students
$15 for Emerging Professional IES Members
$20 for IES Members
$30 for Non-Members
You may be asked to provide Student ID or proof of Association Membership at the door.
The Lighting Industry Mixer will be held at the UTLC Gallery at Lawrence Tech University in Southfield, located in the south end of Building 3 (map below). Attendees may park for free in Lots A or G.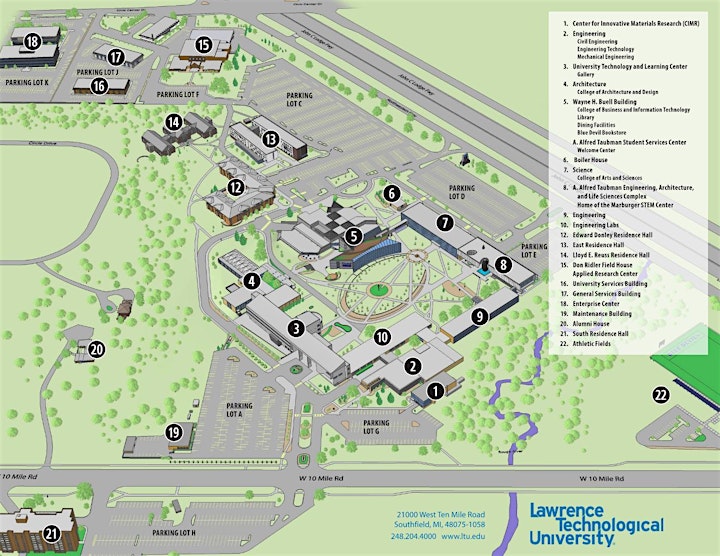 Mar
23
Thu
2023 IES Detroit Product Show

@ Burton Manor
Mar 23 @ 3:00 pm – 8:00 pm
Thank you to Clarus Lighting & Controls for sponsoring the Digital Booklet!
The Annual IES Detroit Lighting Product Show is the "must attend" event of our calendar year. Featuring over 100 lighting exhibitors, there will be something to see for everyone. This is your chance to see the latest trends and developments in the lighting industry. Lighting Designers, Architects, Interior Designers, Specifiers, Electrical Engineers, Electrical Contractors, and Distributors are all encouraged to attend.
The trade show features plenty of food and several open bars to enjoy through the evening.
Also be sure to come and buy a raffle ticket at the door for your chance to win great prizes donated by our exhibitors and the IES Detroit Section.
NEW FOR 2023: IES Detroit is proud to offer CEU Presentations at this year's Product Show.
3pm-4pm :: The Benefits of Warm Street Lighting :: Bob Hahn and Michael Woznicki, Lumecon
4:30pm-5:30pm :: The Science of Color: TM30 :: Bridget Cross, Ecosense
6pm-7pm :: Specifying Sustainable Luminaires :: Anita Majumdar, Acuity Brands
Early Bird ticket sales ($35/ticket) and Ticket Bundles (50ct at $30/ticket) end Friday, March 10th at 11pm. Starting March 10th at 11:01pm, the ticket price rises to $45. Tickets will be available for purchase at the door with cash or credit card. Student tickets are $10, please present valid Student ID at the door.
Bring your printed ticket, PDF, or use the Eventbrite app on your phone so we can scan your entry at the door.
Apr
27
Thu
Lighten Up! Luminaire Competition

@ Gasser Bush Associates
Apr 27 @ 6:00 pm – 9:00 pm
LIGHTEN UP! brings individuals within the design community together to engage, inspire and challenge one another to create a luminaire made from everyday objects.
YOU MUST RSVP by February 23rd 2023 so that supplies can be ordered. You do not need a team to register!
6:00pm-6:20pm Gather and Network
6:20pm-6:30pm Video by National Sponsor Q-Tran to introduce lighting kits
6:30pm-8:00pm Design Competition
8:00pm-8:30pm Luminaire Presentations to Judges
8:30pm-9:00pm Prize Announcements
RULES
-Participants will compete with other sections in real time. Teams will have 1 1/2 hours to design and build their luminaire.
-Teams can be 4-6 participants. You do not have to be an IES Member to participate!
-The Light Source will be provided by Q-Tran. The building materials will be provided by IES Detroit. These will be available to you at the start of the competition.
-The Design Theme will be revealed when the competition begins
-Food and beverages will be provided during the event.
SPACE IS LIMITED – SAVE YOUR SPOT TODAY!
Instagram: @ieslightenup
Hashtag: #2023LIGHTENUP
Questions? Please email Eric Graettinger – [email protected]